Anderson & Roe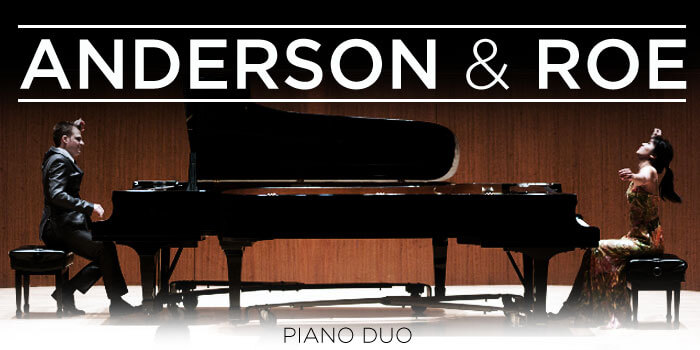 It's hard to talk about a performance by the piano duo Anderson & Roe without simply saying, "You have to see this!" When they arrive this month to play for Convocations and the Lafayette Symphony Orchestra, the excitement they bring to the piano is infectious. Greg Anderson and Elizabeth Joy Roe perform both types of duets: piano four hands (on one piano) and duets for two pianos. They've mastered both, with a powerful physical intimacy on piano four hands and a shared musical sensibility that's obvious even when they're playing separate instruments.
The songs from their latest album, When Words Fade, include arrangements of, and original compositions inspired by, classical works, opera arias, and pop hits from Michael Jackson, Coldplay, and Radiohead. While they play pieces in a wide range of genres and styles, all are songs that Anderson and Roe love, and all share some relation to the theme of night, say the duo in a video interview with Keyboard Magazine at the album's launch. They've described their playing style as "acrobatic" and have noted the resemblance between two players at the piano and a couple dancing, so it's no surprise that one reviewer compared them to Fred Astaire and Ginger Rogers. (Much like a pair of dancers, they also note how easy it is to injure themselves in rehearsals.)
Anderson & Roe recorded the album on the Steinway & Sons label. "We like to say that the Steinway pianos feel like the most human of the pianos that we play—the most naturally expressive. I feel so much like it's my own voice," said Anderson at the album launch.
"Every Steinway piano has an individual personality," adds Roe, "so whenever we're on stage or we're in different venues, it's almost like meeting a new person and encountering the music for the first time. So there's this constant sense of reinvigoration and inspiration."
In March, their arrangement of Michael Jackson's Billie Jean was named an NPR "song of the day." It's not a cover, because they've completely reimagined it. There's something familiar in the piece's opening rhythm that teases your memory, but Anderson and Roe refuse to give it away by simply recreating the song's famous bass line. Instead they make you wait, and when you finally hear the notes that introduced Jackson's illuminated footsteps in the original video, you suddenly realize what they're playing. The song continues ominously, but later Anderson & Roe, playing four hands, will break into a variation that sounds straight out of Gershwin's "Rhapsody in Blue." Roe then replicates the song's guitar solo by leaning in to pluck the strings—and all of this totally works.
This is part of what's fun about Anderson & Roe: wondering what they'll do next—and how. They take a DIY approach to altering the piano as needed to produce the sounds they want. One of them will lean into the piano and press down on the strings to mute them as the other plays, or they'll simply make their own mutes from bits of wood, foam, and felt. These homemade devices are used to beautiful effect to achieve the staccato plink of rain in their arrangement of "Sento in seno ch'in pioggia di lagrime" ("I feel within a rain of tears") from Tieteberga and Il Giustino by Antonio Vivaldi.
They also demonstrate their sense of humor and a flair for the dramatic with the theatrical videos they film to showcase the mood of a piece. In live performances, however, it's clear that their video endeavors simply embellish their virtuoso skills as pianists, rather than distracting from or replacing them.
"We're always also responding to the audience and to the energy in the room," says Roe at the album launch. "So there's this amalgam of the pianos, the acoustic, the audience, the program…"—"Our moods, the piece we're playing" interjects Anderson—"…that affect and all fold into the performance," she finishes, nodding in agreement with Anderson.
"Which is why live performance feels so exciting for us," says Anderson. "I would never want to give that up, because it's hard to recreate that sort of spontaneity and energy in a recording studio."
–Stacey Mickelbart