Alan Lomax traveled throughout the United States, the Caribbean, and far beyond, capturing an enormously diverse musical portrait of life across the country. He recorded the songs, stories and remembrances of our people for over 60 years preserving for us all a rich and fulfilling aural portrait of our land. This year, banjoist Jayme Stone and his band will celebrate this legacy with The Lomax Project at Lafayette Theater on Saturday, March 28, at 8 p.m.
Inspired by the spirit of Lomax's field recordings and to capture part of our own local heritage, Purdue Convocations has created a Field Recording Open House—a recording session to capture and record songs and stories from our own community.
Do you have a folk song, original song, or story about our community to contribute to our fieldwork? Using a simple, single condenser microphone and the ambience of live room, you and/or your group can have your song captured in our safe and supportive recording environment. We'll record the audio as well as lovingly capture it on video, and then make it available for audiences on our website and YouTube channel. What's more, Jayme Stone and the members of his band will be available for coaching, mentoring, musical support.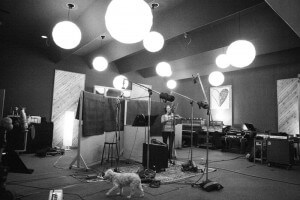 We are looking for contributions that are seven (7) minutes or less in length and can be captured with simple microphone set up. As we all know, historic field recordings were done in one or two takes. There was no multi-tracking or special effects. The same ethos applies here as you contribution must be able to be recorded with the existing set up. We'll have one instrument on hand—a digital piano—to accommodate those who may be keyboard players. Everyone else has the pleasure of bringing their favorite ax. As you can see, acoustic instruments will be suited for this environment. We will have the opportunity to capture eight contributions from those submitted for consideration.
To apply, submit an audio and/or video recording of your contribution by (DEADLINE EXTENDED) February 22, 2015, at 11:59PM. A panel of local people will choose eight works and two alternates to record between 10 a.m. and 2 p.m. on Saturday, March 28th.
Important fine print: Artistic material must be an original composition, in the public domain, or material for which you can show you have acquired the performance and recording rights. The ownership of all performed works is retained by the artist and/or creator, but all rights to the performances captured in these recording will belong to Purdue University.
Alan Lomax Centennial Residency Project Application
APPLICATION PROCESS CLOSED
Further Information:
Anyone is eligible to submit material.
Entries may include an audio and/or video recording of the entry, or a link to a YouTube or other recording.
Entries will be judged by a team selected by Purdue Convocations.
Entrants will be notified no later than March 1, 2015.
Your submission will be reviewed and you will be contacted if selected. Good luck!