Program Notes: Dublin Guitar Quartet
FRIENDS SUPPORT FROM: MIKE & PAM LUENZ
BRIAN BOLGER | PAT BRUNNOCK | REDMOND O'TOOLE | TOMAS O'DURCAIN
Program Note: Regular Dublin Guitar Quartet member Michael O'Toole has been replaced by Redmond O'Toole for this performance.

With respect to the musician and your fellow patrons, we request your participation in the tradition of withholding applause between movements of a selection. To the same end, we also ask that you silence and discontinue use of all electronic devices.
Described as a "quartet with a difference" by the Irish Times, the Dublin Guitar Quartet is a one-of- a-kind classical guitar ensemble that occupies a unique space in the wider chamber music world. It is the first classical guitar quartet devoted to new music. Since its formation at the Dublin Conservatory of Music and Drama, DGQ has worked to expand the limited repertoire by commissioning new works and adapting modern masterpieces from outside of the guitar repertoire. Audiences can expect an explosive, entertaining, and completely novel concert experience.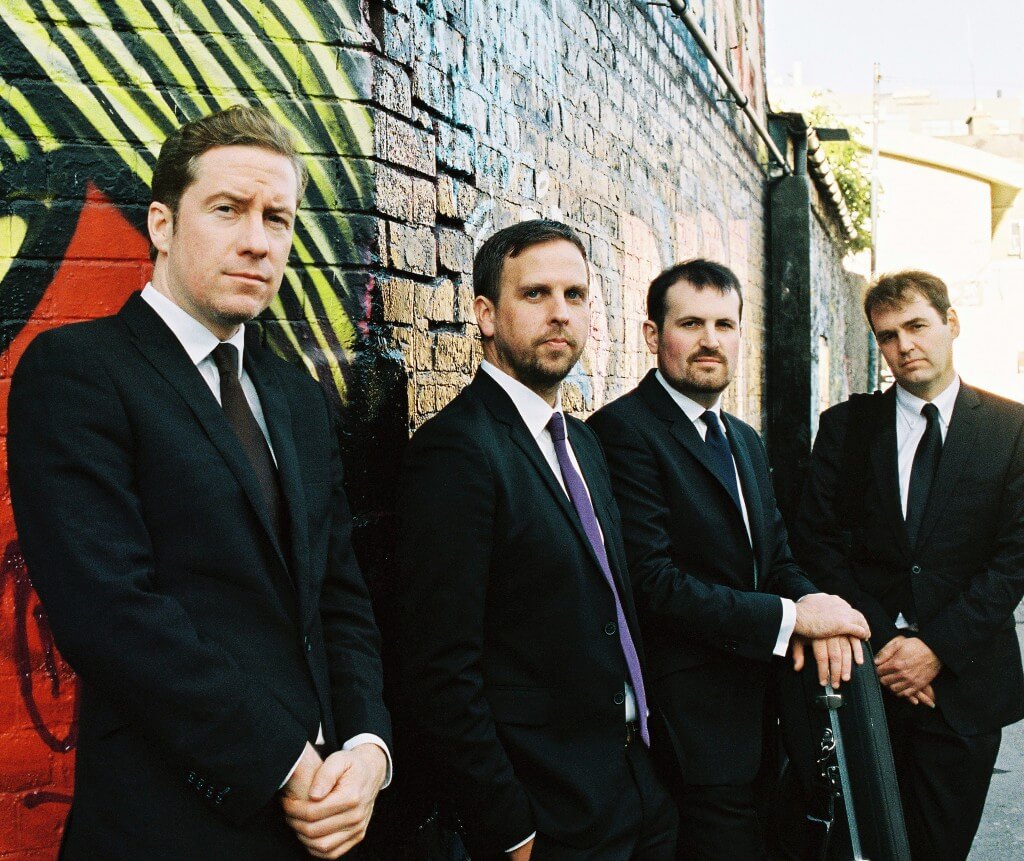 With the help of eight and eleven-string guitars the quartet has created an original catalogue of arrangements by composers such Philip Glass, Steve Reich, Arvo Part, and Gyorgy Ligeti. DGQ's work has brought the attention of some of the world's leading composers. Recent activity includes a forthcoming release on Philip Glass's Orange Mountain Music label, and a new 25-minute commission by New York's Michael Gordon. The ensemble is also included on a recent recording performing Arvo Pärt's Summa. The quartet worked with the composer in making the arrangement and received guidance during the recording process. The arrangement will be published by the composer's own publisher Universal Edition.
In 2010 the quartet were involved in a very special performance of Repentance for Cello, Guitar Trio and Double Bass by celebrated Russian composer Sofia Gubaidulina. The composer was present as they joined the amazing Russian cellist Ivan Monighetti in a concert in St. Peter's Church, Drogheda. DGQ's recording of this work was released on the LCMS label in March 2012. In 2008, the quartet was honored to share the stage with legendary American composer Philip Glass in St. Patrick's Cathederal, Dundalk. After hearing the quartet's arrangements of two of his string quartets, the composer described them as "quite beautiful." In 2010, DGQ performed the entire set of Philip Glass quartets to great acclaim.
Other performance highlights include the opening concert at the inaugural Guitar Festival of Ireland in 2004, which included performances by John Williams and Louis Stewart. In 2004, the premiere of Four Guitars by internationally acclaimed composer Kevin Volans was broadcast on RTÉ Lyric FM, Ireland's leading classical music and arts radio station. A premiere of Tilt by Donnacha Dennehy at the National Concert Hall as part of the 2006 Dublin Electronic Arts Festival (D.E.A.F.) was also broadcast on RTÉ Lyric FM.
Dublin Guitar Quartet has been successful in bringing new music to new audiences. It has played alongside rock groups such as The Redneck Manifesto (Dublin) and Final Fantasy (Canada); performing in venues such as Vicar St., Whelan's of Wexford Street, Project Arts Centre, Crawdaddy, and the Roisin Dubh in Galway. The quartet was also invited to perform at the Crash Ensemble's ten-year anniversary concert in 2010.
The DGQ are also developing the electric side of the guitar quartet repertoire with works like Nagoya Guitars and Electric Counterpoint by Steve Reich, and a forthcoming commission for electric guitar quartet by Michael Gordon.
The Dublin Guitar Quartet is supported by Music Network and the Arts Council of Ireland.